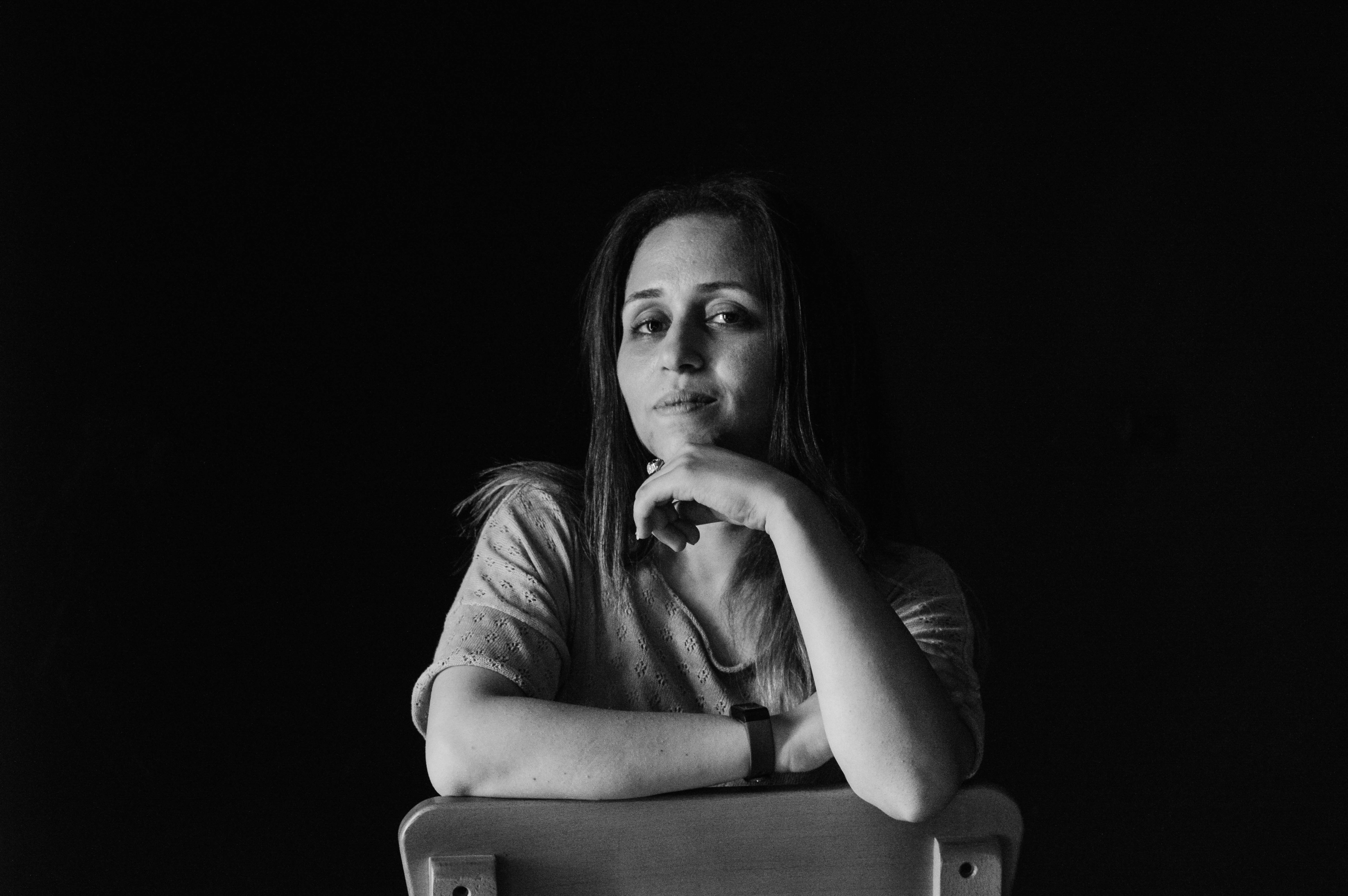 MAHA SAFWAT
Digital Experience & Interaction designer.
Travel Invaders
A new game dedicated to travellers
Project info:
Platform: Mobile App
Team: Alina Romashkova, Rodrigo Salmeron, Maha Safwat
Time: Jan - Mar 2019
Context
We were asked to create a digital product that would help Lonely Planet retain existing users and attract the younger generation.
The following is our UX Approach to this problem.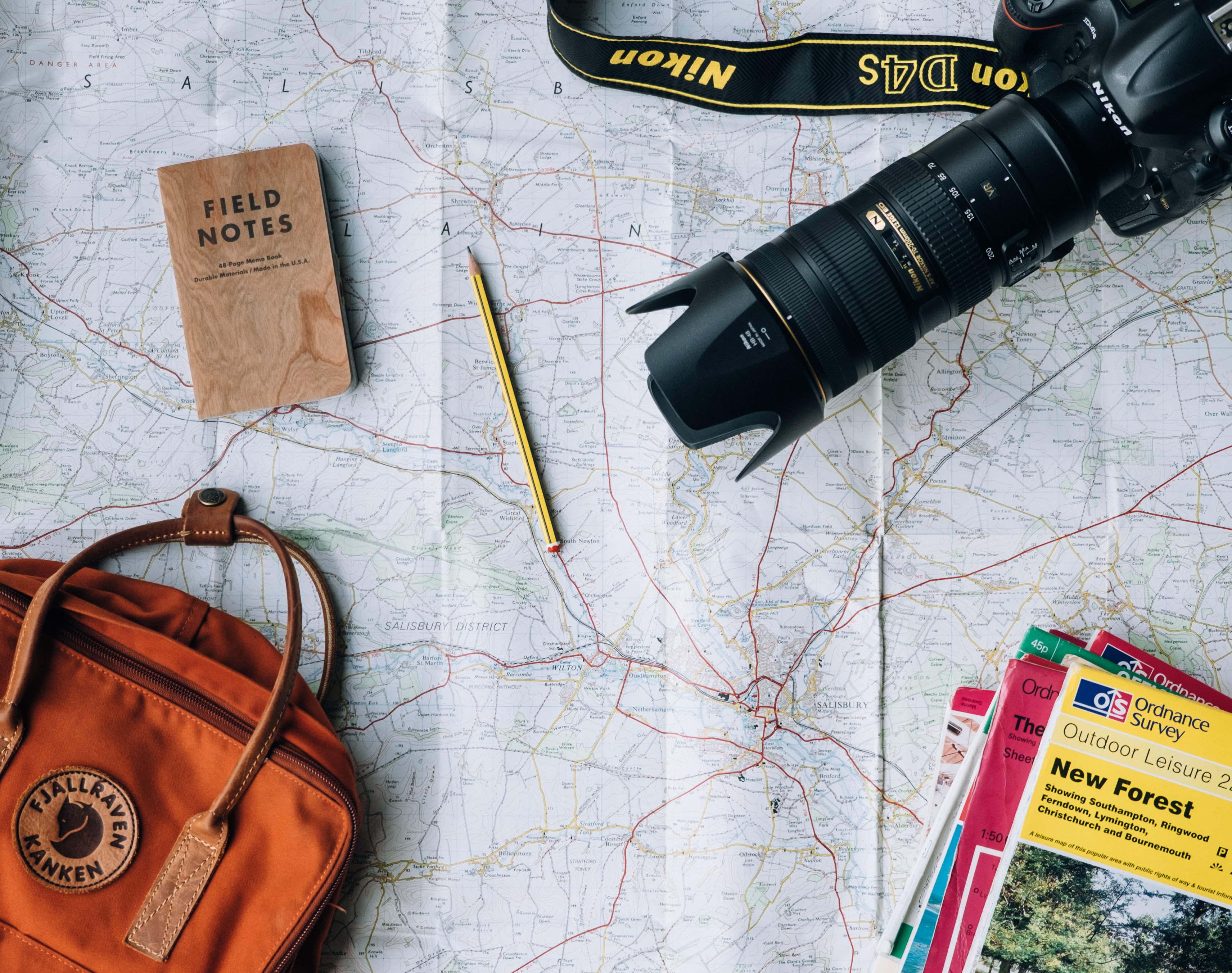 Interviews
At the discovery phase of the project, we went outside and made interviews with 13 tourists around the city, the questions of the interview were about pre, during and post travel behaviour and tools that travellers use to get information or make decision about their trip.
From those interviews we had main 2 insights:
Our users can easily find the information they are looking for using Search, but they still see it as a job and find it tedious.

After the mandatory research for traveling (transport and accommodation), intensive research decreases, in 50% of the cases it completely stops.
We later researched into the direct competitors of our existing products and we found that our products include most of the features of our competitors, but then, what is going wrong? ... Our products lack engagement.
Moving in this direction, we started looking into user behaviour and digital products that provoke the most engagement, and we found Games.
"75% of mobile gamers reporting playing mobile games 7+ times a week."
VentureBeat.com, 2019
"From the 300 million mobile gamers that are expected by 2021, […] 35% are between 18 - 35 years old"
Deccan Chronicle, 2018
Taking this into account we wondered how could we enrich their traveling experience. We decided to change the experience of finding information during traveling and enhance it, we want to make it fun while we provide Lonely Planet's content in a playful way.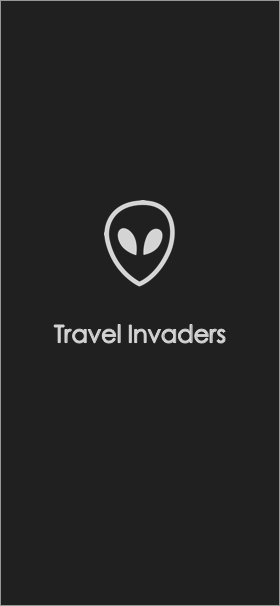 Solution Concept
Travel Invaders
Mobile Game that provides the user with spots to visit and information about them but makes the process of visiting them fun and enjoyable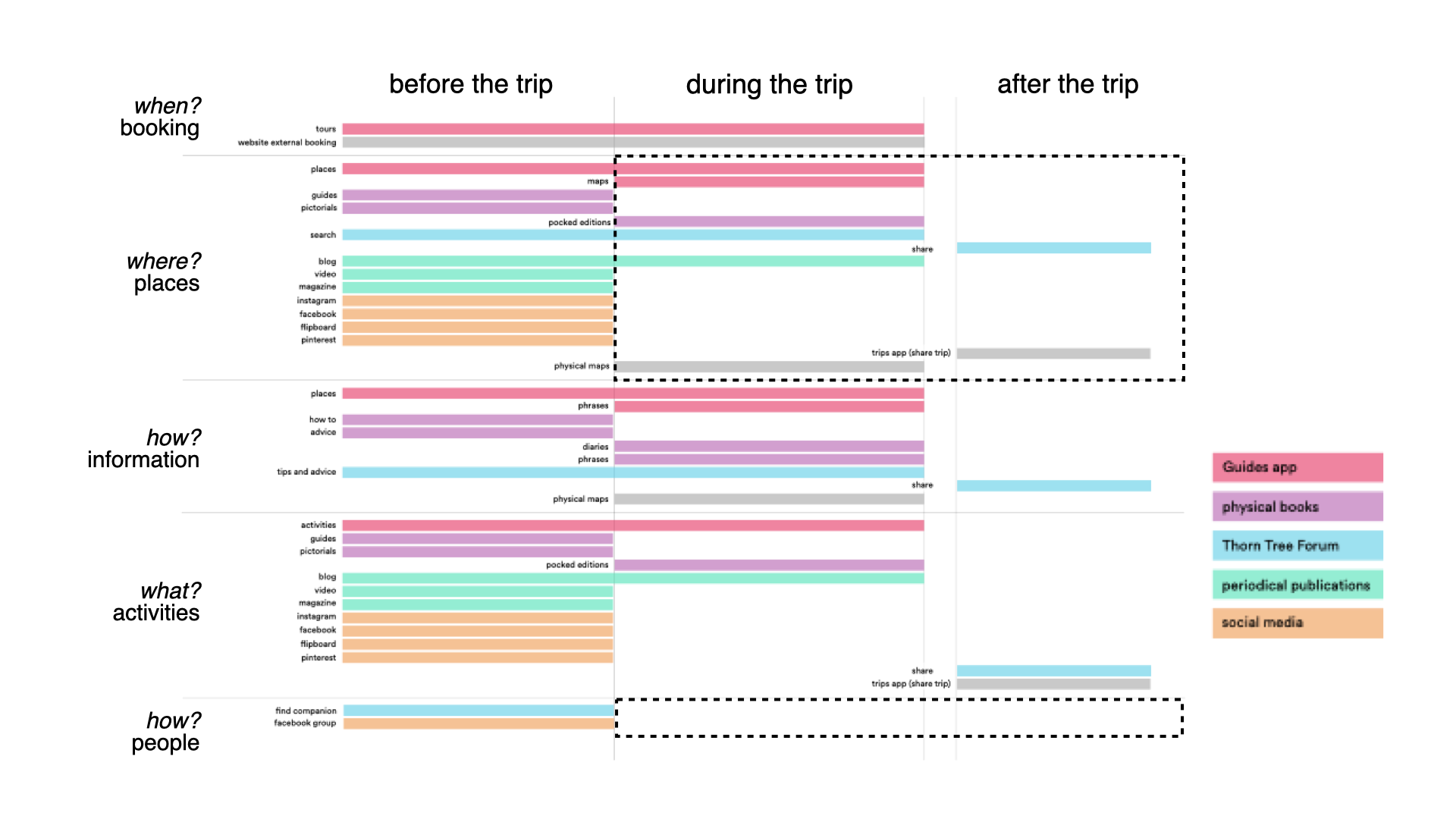 Eco-system Analysis
To find where our product would live inside the lonely planet ecosystem. We mapped all of Lonely Planet's existing products and place them on the map according to the
tips and advice
stage of the trip they're used in and the kind of infor sh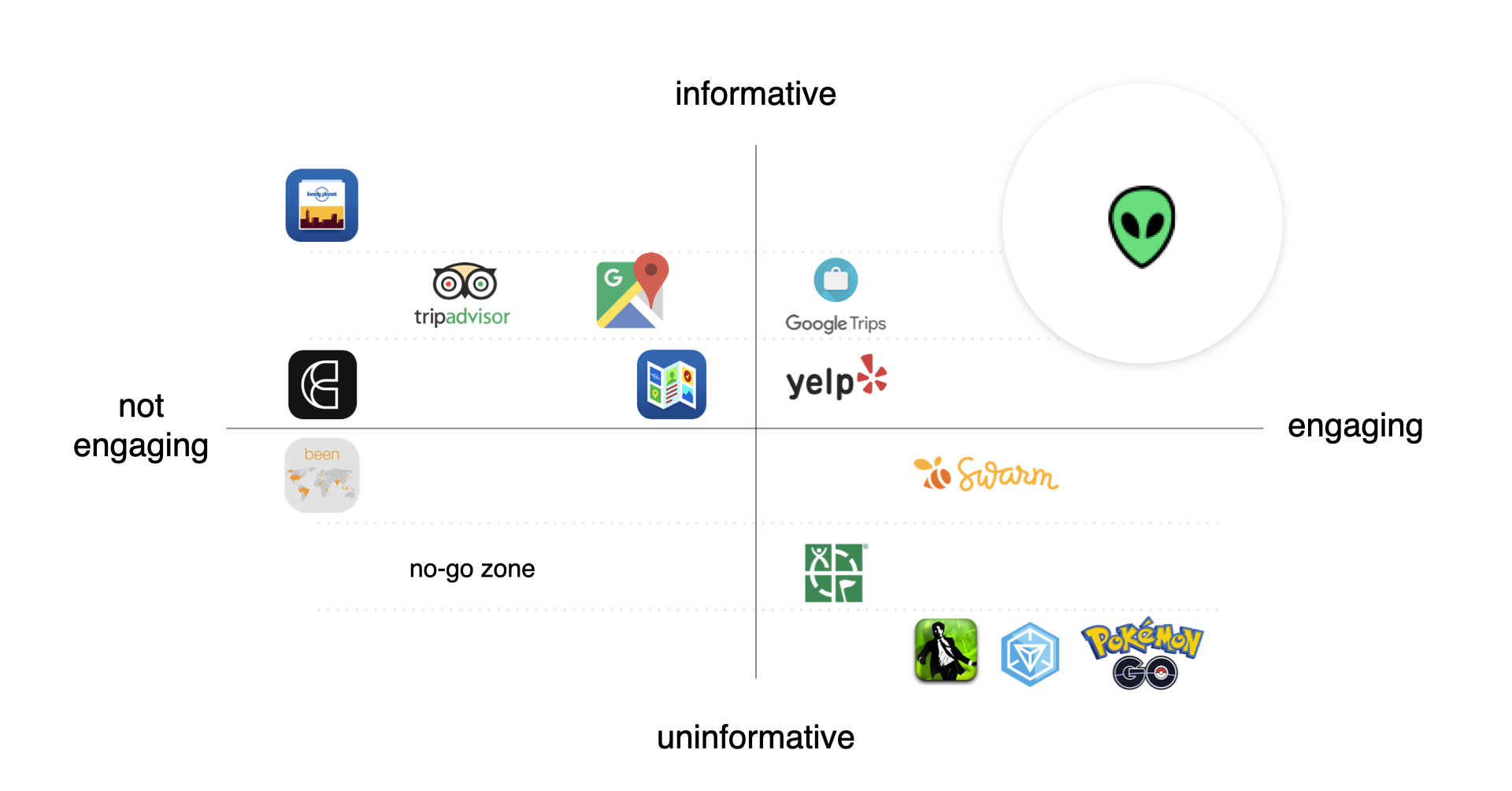 Competitive Analysis
Since our game is focusing on providing users with landmarks to visit, we analyzed the digital product market for geo-location based apps, travel tools and check-in-focused apps, we want our product to have the same engagement as Pokemon go but keep the level of detailed information
Personas
So who is going to use this App? Based on the interviews we set up three personas to target with our game App. We referred to them throughout the entire product development process.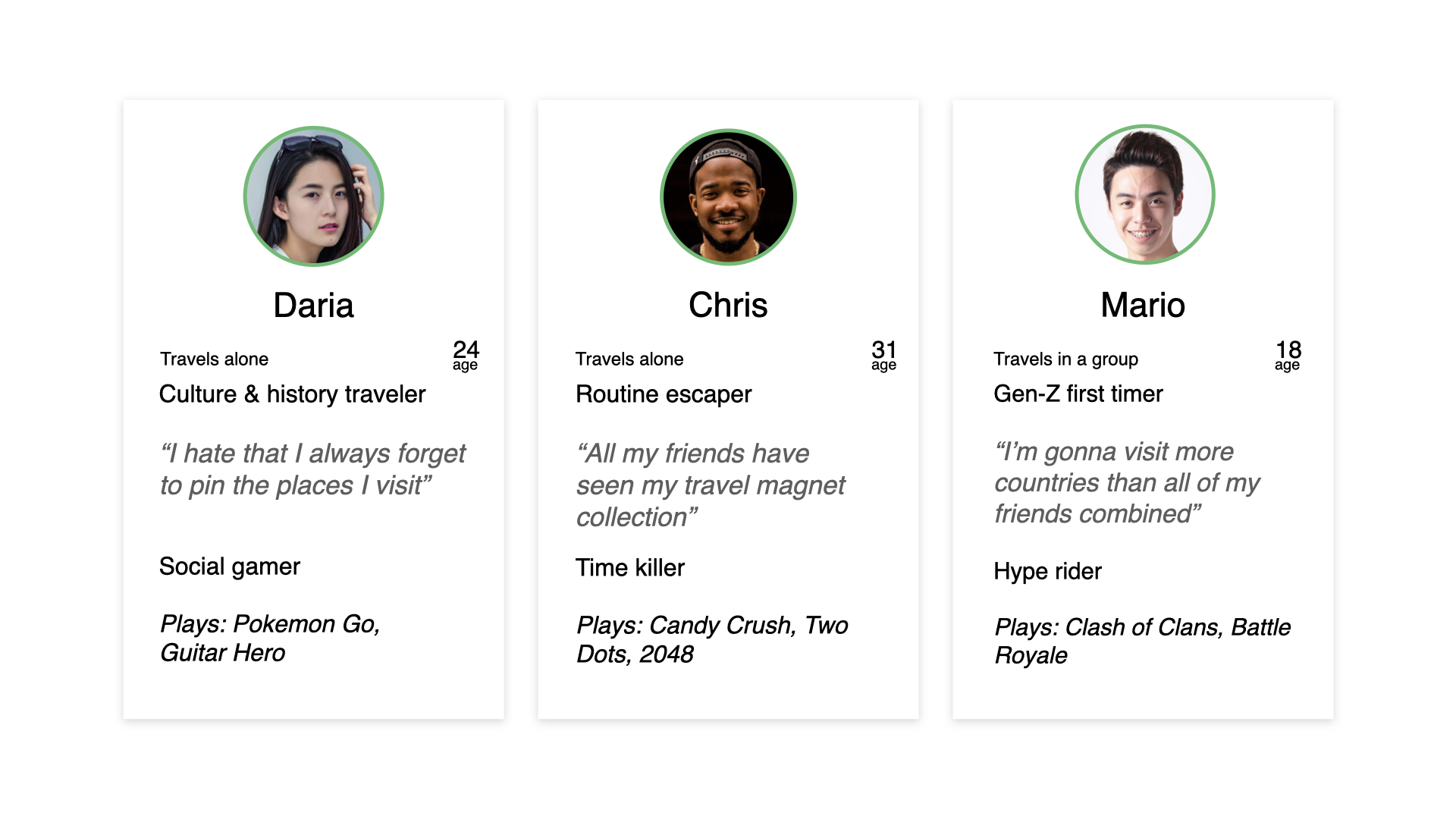 Personas reflection on the App
To address our users/personas needs we have to take this key points into account:

Daria: worries about keeping track of the places she visits, so we need to allow her to record her travels.
Chris: his achievements are not complete until he's shared them with his friends, we'll help him to share his traveling experience and be proud of it.
Mario: being the best in everything is important, that's why we're going to make our game competitive.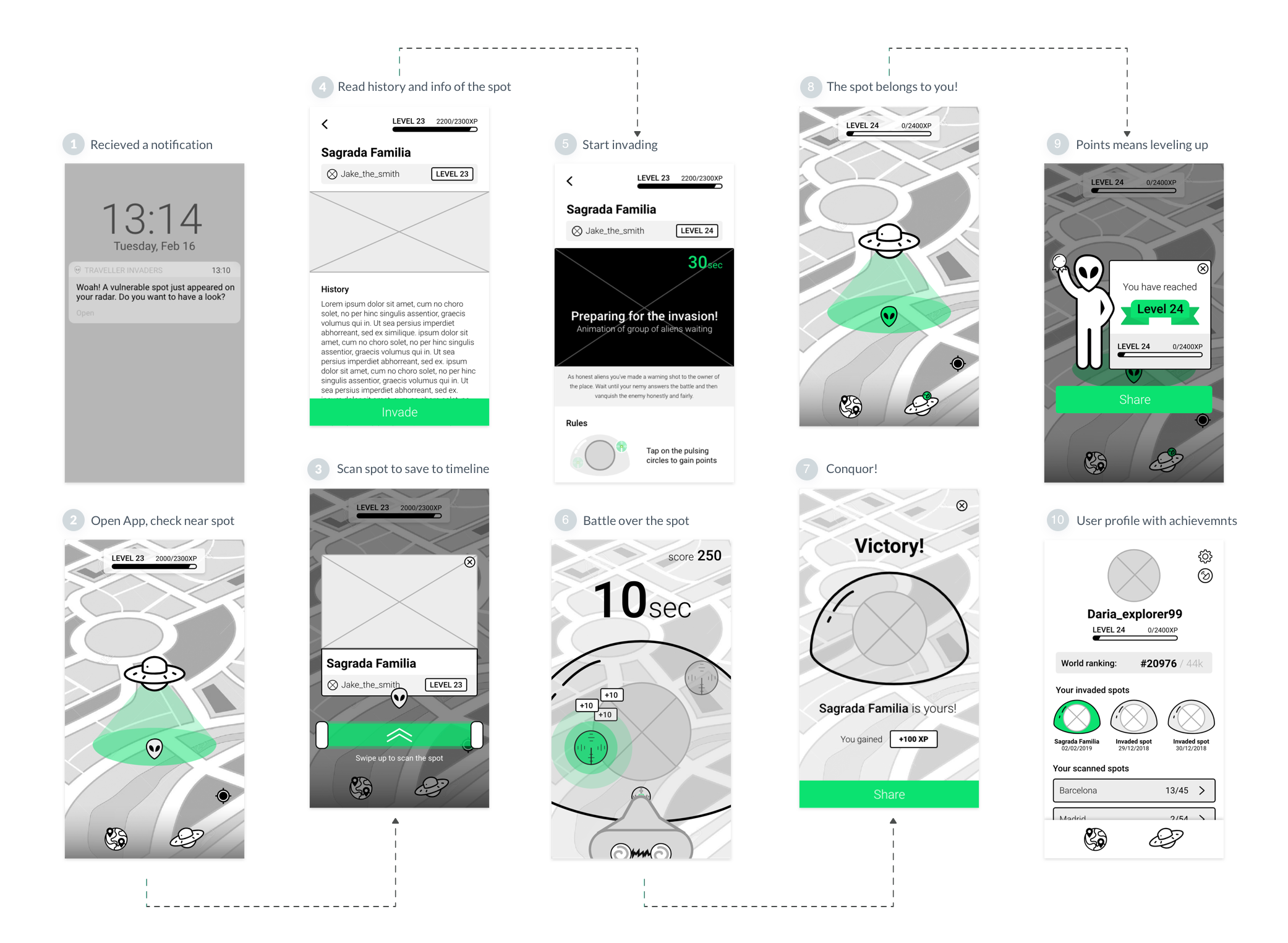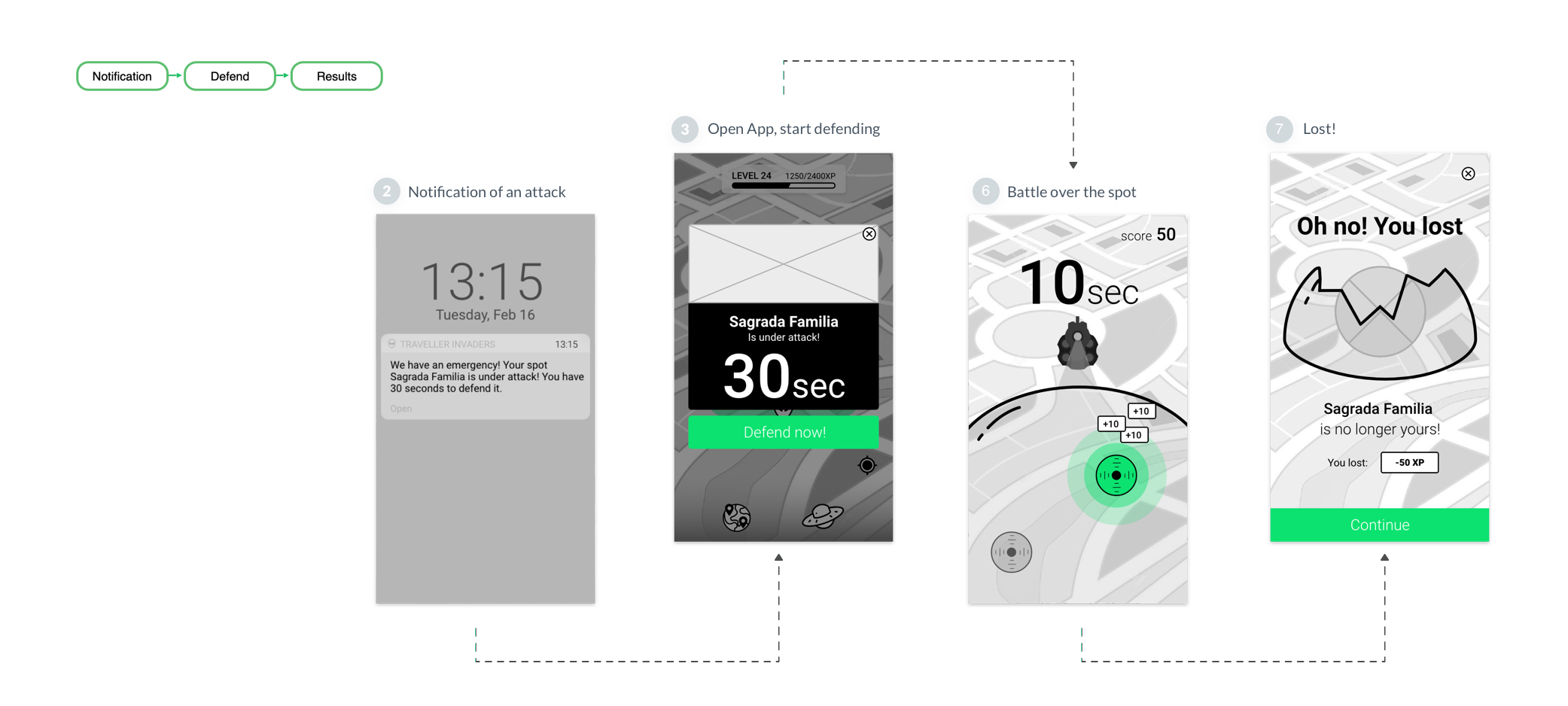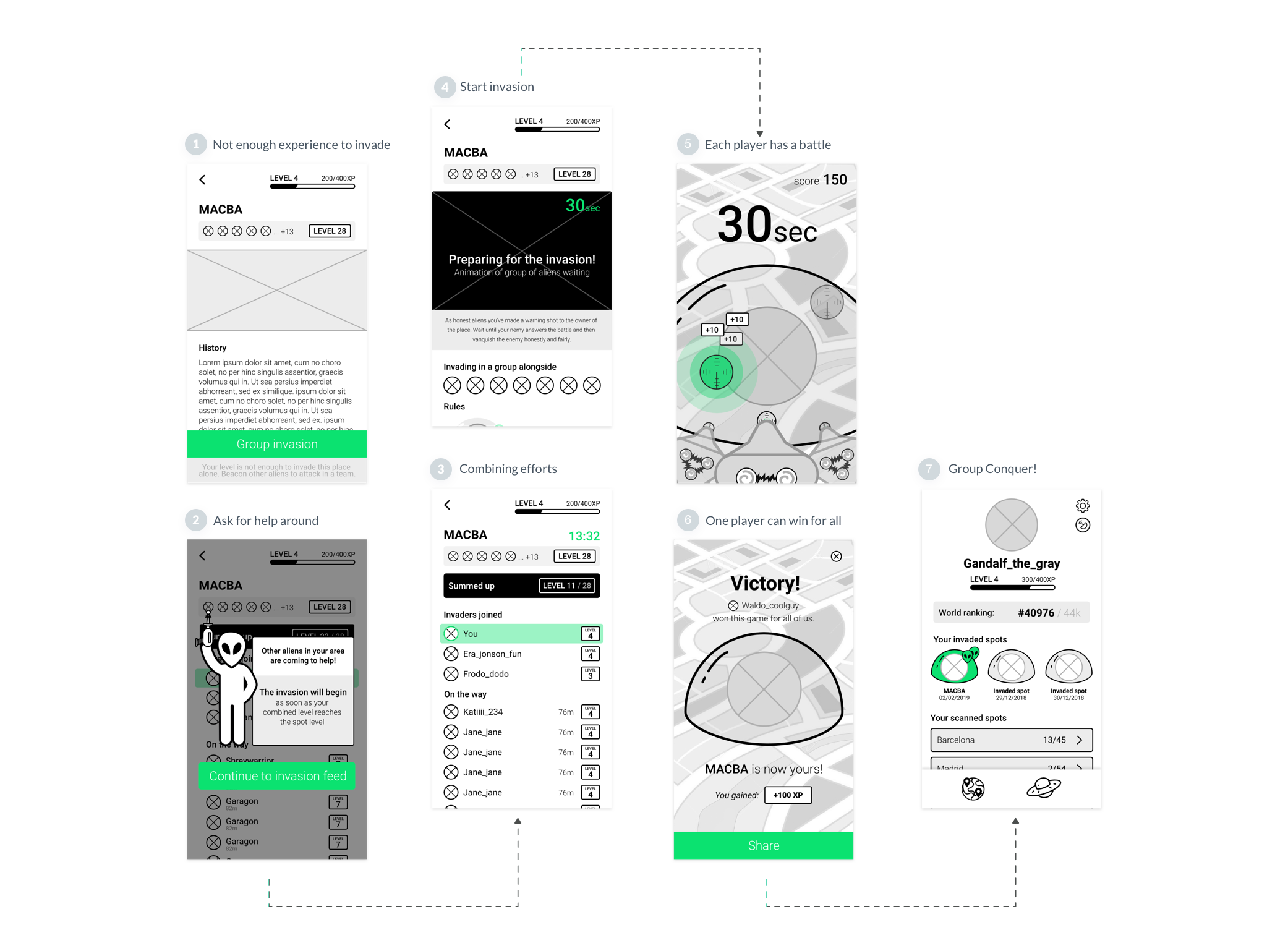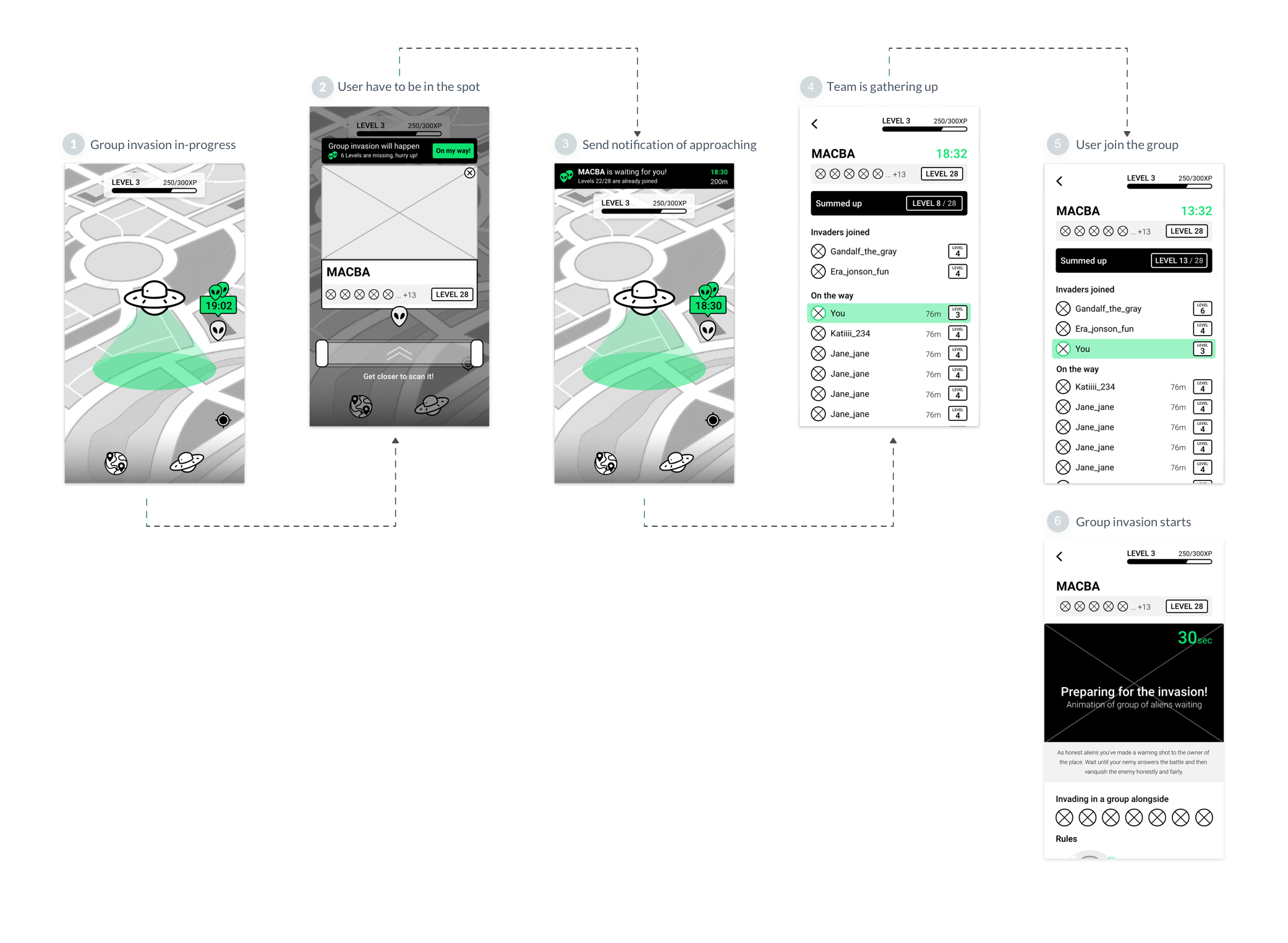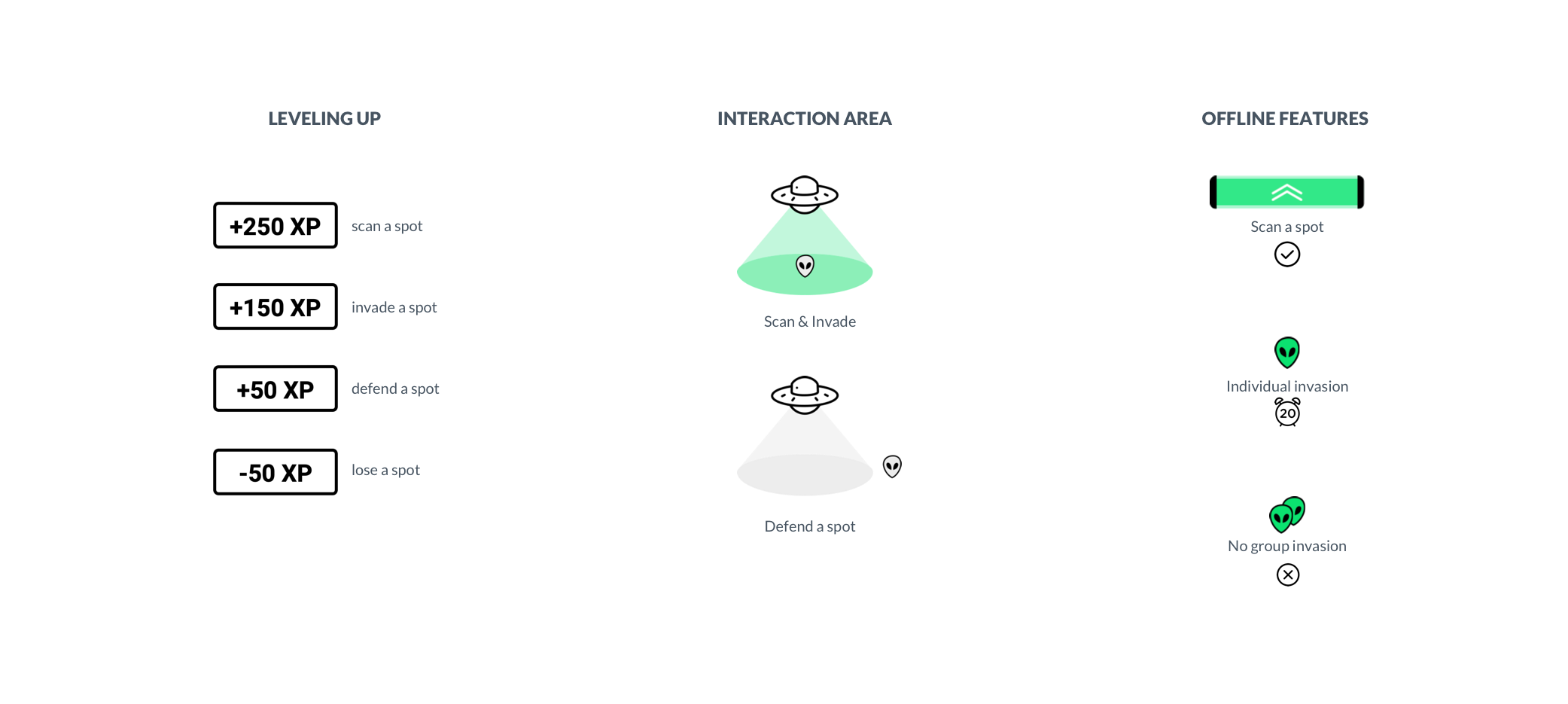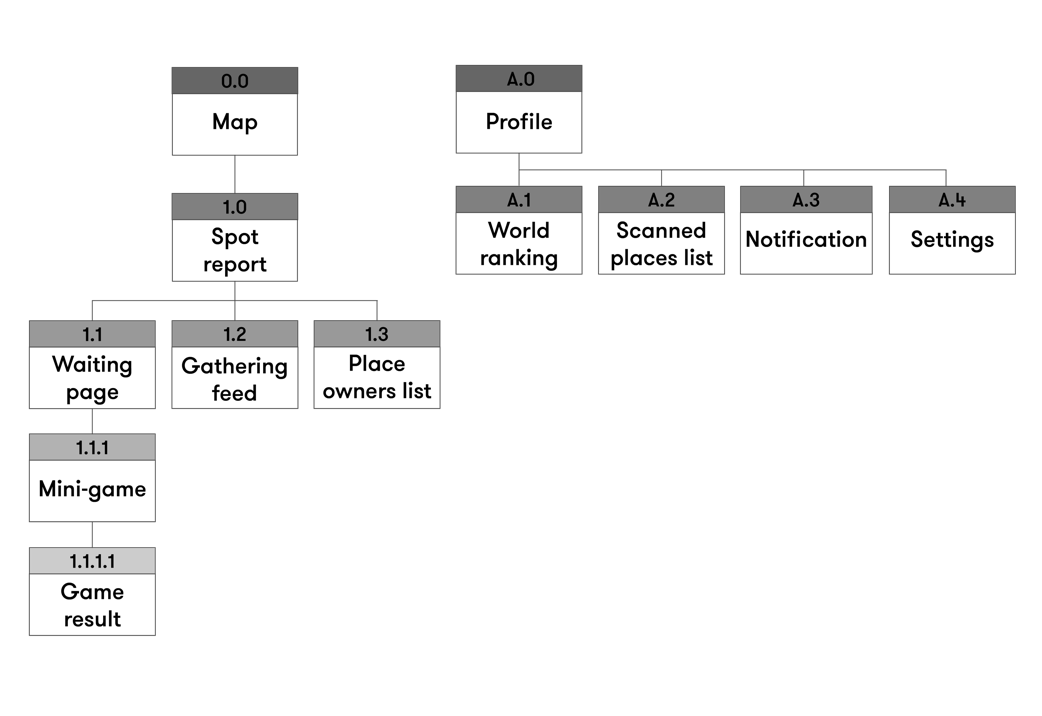 Sitemap
Travelling invaders has a very simple structure, as almost all interaction happens in the map, you also have a profile to review your achievements.
The development will have two phases. What we presented on the wireframes was Stage 1, our Minimum Viable Product, this is all of the functionality that the game requieres to work. For Stage 2 we decided to add Quests and Badges to make the game more fair for new users and add more incentives to play.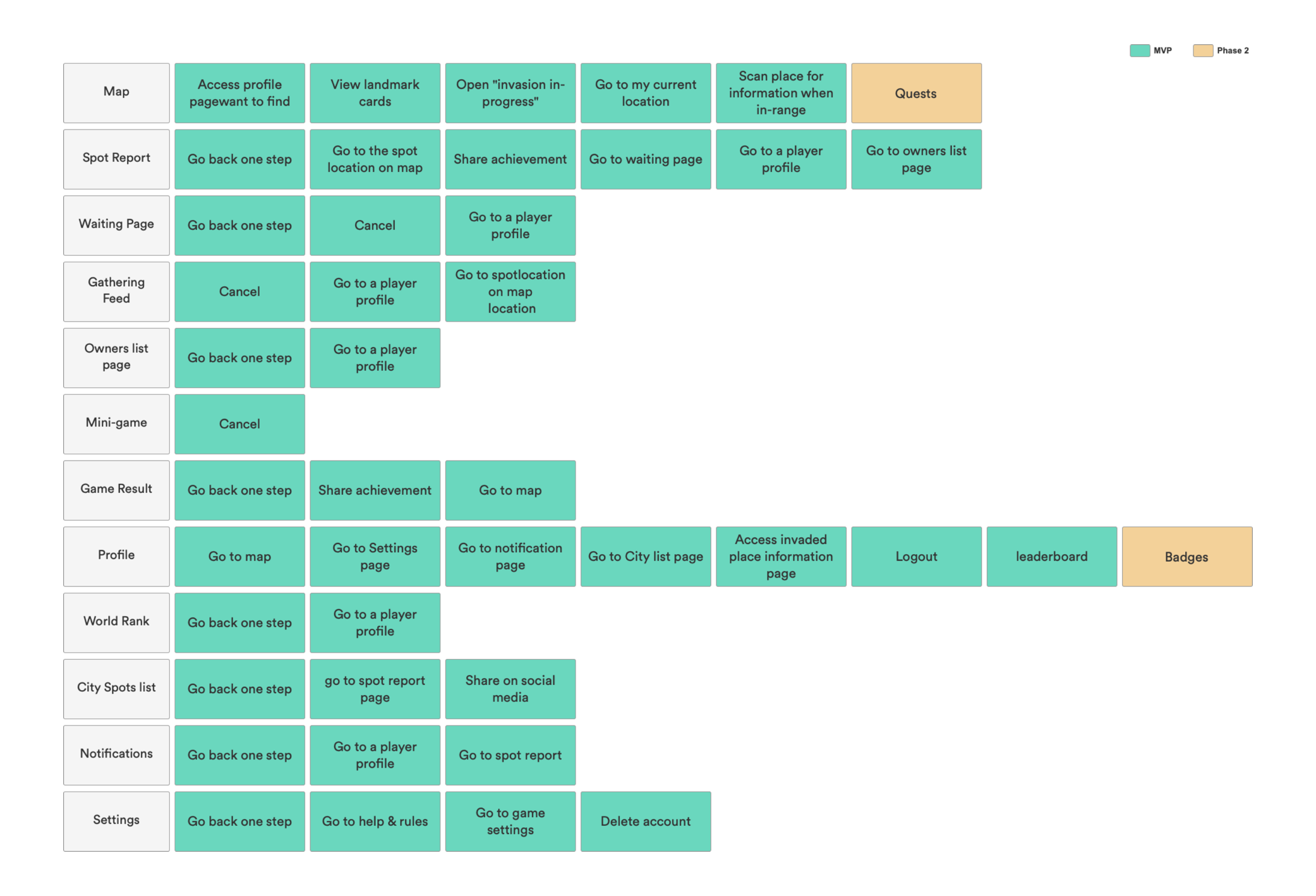 Wrapping up
We introduced a new and more engaging way of interacting with Lonely Planet to make the content relevant again.
By saving, organizing and making accessible all visited landmarks, we addressed our user's need to record their travels
We dedicated several features to display the user's achievements and made them shareable. This way we make them proud of their traveling experience.
We made competition a core interaction in our product by letting users compete over the landmarks they collect.